The migration advice center in Dakar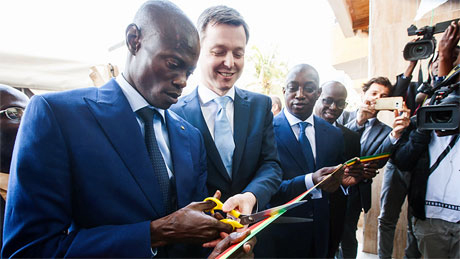 Where do I go to get accurate information about migration to Europe and Germany? And where do migrants get help when they return to their home country? Professional advice is needed! Germany is providing it:
This week, the seventh migration advice center opened its doors in Dakar, Senegal. Like the other centers, it offers information about legal migration, the dangers of irregular migration, as well as support for returnees so they successfully reintegrate and thrive at home. The services of the center are also available to people without prior migration experience.
Supporting returnees after returning from Germany to their countries of origin is a priority for Germany. In January 2018, Germany and Senegal opened a new migration advice center in Dakar – this is now the seventh migration advice center in countries where returnees and potential migrants need facts. While supporting returnees to reintegrate, migration advice centers also inform about the dangers of irregular migration, job opportunities in home countries and legal migration.
At the opening ceremony of the new migration advice center in Dakar, Senegal, the German State Secretary Thomas Silberhorn explains why these centers are needed and how they can support people to build their future: "Young people in particular need the prospect of work. And that is what we want to offer them – along with a future in their own country. That is why the advice center is offering its services to all the people […] who want a better future for themselves and for their families; it provides targeted support for training and employment. We want to offer an alternative which is better than risking a perilous journey where the outcome is uncertain."
By now migration advice centers have opened in Kosovo, Albania, Serbia, Tunisia, Morocco, Ghana and Senegal. More are supposed to follow in the months to come. For more information on the migration advice centers and how to contact them, go here >>
Migration advice centers are being set up in specific partner countries, for example in the Western Balkans and in North and Western Africa. At these centers, counselors provide tailored advice on the options available to returnees. However, they also offer advice to all local people who seek information on job opportunities in their country, and to people interested in migration via regular channels. Among other things, the centers help people find training opportunities, provide advice to people who want to start their own business, and assist people in finding a job. In addition, the centers provide information on legal options for migration to Germany and raise awareness about the risks involved in irregular migration.
Find out more here:
https://rumoursaboutgermany.info/facts/where-can-i-find-out-about-support-for-returning-home-voluntarily/