Germany in a nutshell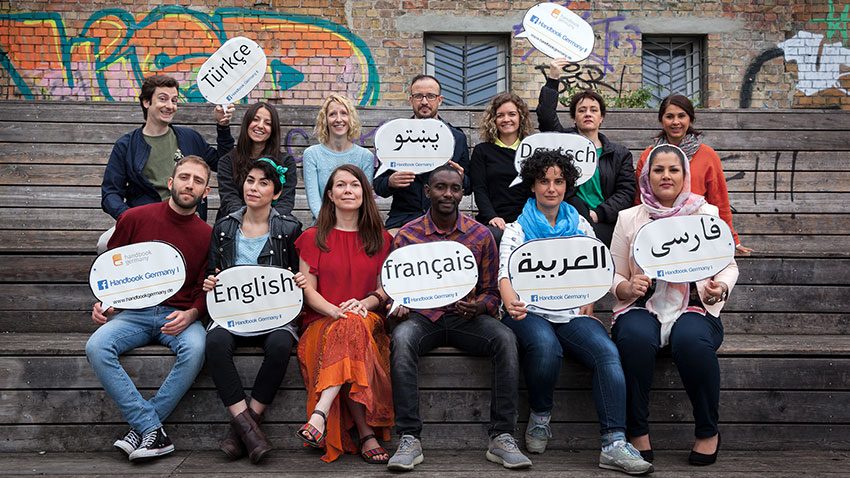 Handbook Germany was established as an information platform for refugees and migrants newly arriving in Germany. The aim is to provide them with fact-checked information in their native language about what it means to start a new life in a different society. While Handbook Germany addresses the questions and concerns of those who are already in the country, migrants and refugees considering coming to Germany can receive the information they need at Rumours about Germany – Facts for Migrants and on the platform for skilled migration "Make it in Germany". In recent years, the Handbook Germany information platform has become a highly respected social media community that empowers refugees and migrants living in Germany to take informed decisions in everyday life situations.
Migrants and refugees newly arriving in Germany face many often puzzling questions: who should I contact when I'm sick? How should I start looking for a job? Where can I learn German? Which institution will help me to find a school for my kids? These questions are a potential source of additional stress and uncertainty for those fleeing war, terror and political persecution.
The Handbook Germany information platform offers fact-checked information addressing such needs and concerns. "Understanding German society and its complexities is key in order to successfully start a new life without being dependent on others," says Mosjkan Ehrari, editor-in-chief of the Handbook Germany website.
Facts and stories from trusted journalists
The information on the website is provided in the languages spoken by the biggest migrant and refugee communities in Germany, notably Arabic, Farsi, French, Pashto and Turkish, as well as German and English. "We want to be a reliable resource that helps people to avoid unnecessary mistakes that cause follow-up problems," says Mosjkan Ehrari. The project was launched in spring 2017 in the aftermath of a major influx of refugees to Germany. Most new arrivals had smartphones and access to wifi, but they lacked credible resources in their own languages about day-to-day questions concerning life in Germany. A wild mixture of unproven, misleading or false information continues to be online to this day, especially on Facebook, says Mosjkan Ehrari. The editors at Handbook Germany have earned the respect and trust of their migrant communities due to their journalistic expertise, and also because most of the staff members have migrant backgrounds themselves. "Our staff has gone through the same steps to become integrated until finally feeling at home in German society," says Mosjkan Ehrari.
Number-one uncertainty: the right to stay in Germany
The issues and concerns of refugees and migrants have evolved over time. Nowadays, users interacting with the editorial team at Handbook Germany are also interested in topics such as marriage and divorce, professional qualification programmes and what happens in the event that a relative requires professional care. Uncertainties about the right to stay in Germany and the many questions associated with this are among users' most important concerns.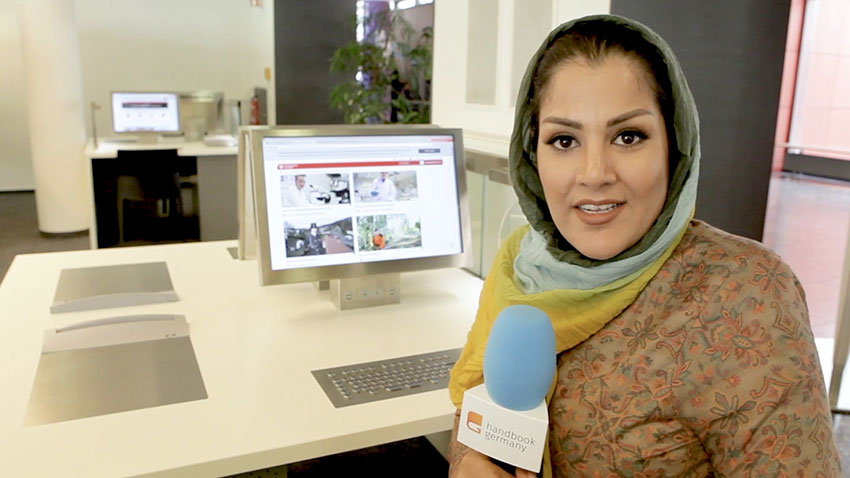 The Handbook Germany team currently consists of 12 members who work full time as well as a number of freelancers. It offers hand-picked content for its specific target groups. The multilingual information platform has gained in popularity and has expanded its reach constantly. Around 1.5 million visitors use the fact-checked content each year while some 190,000 users receive their news posts via Facebook on a regular basis. "With our target groups, Facebook is still the most important channel for getting fact-checked information directly to communities," says Mosjkan Ehrari. The content sent out via Facebook then generates traffic on the website.
Both of the information platforms Rumours about Germany – Facts for Migrants and Handbook Germany aim to provide reliable information for migrants and refugees before they leave, during their journeys and after arriving in Germany. Mosjkan Ehrari has the following to say in this regard: "With these projects, more and more migrants and refugees will receive the trustworthy information they depend on."